I/O Modules
Rail-H I/O Family
Honeywell's Rail-H I/O family of I/O modules combines the small size and cost-efficiency of its predecessor, Rail-A I/O, with the ability to perform in hazardous locations to help users meet the most demanding process requirements.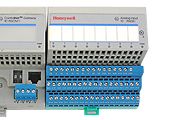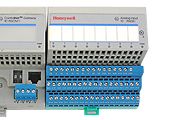 Honeywell's Rail-H I/O is a compact, modular I/O system designed to perform under harsh conditions. Similar to the Rail-A I/O family, it can be installed in small cabinets, thus saving space.

The Rail-H I/O modules can be mounted directly in hazardous locations such as Div 1/Zone 1. The modules are Din-rail mountable and can be located both at the process and remote to the control processor, providing users further flexibility. The Rail-H I/O family of I/O modules brings significant design, installation, and wiring savings for intrinsically safe applications.
Name
Description
File Size
Date
Size