Water is a natural resource vital for the existence of life, from the supply of fresh drinking water to driving the agricultural and industrial processes essential for economic growth and wellbeing.
Although considered a renewable resource, many sources of water are being depleted faster than they can be replenished, but we can all do our part in sustaining our environment.
To ensure the smooth, compliant running of any water industry facility and the efficient, plant-wide use of water, organizations require advanced technologies such as process control and monitoring solutions with integrated safety and data analytics, remote asset management platforms and predictive maintenance systems. They also need solutions to help them comply with industry regulations, minimize energy use and reduce the risk of cyber threats.

Honeywell addresses these needs and offers solutions for virtually any water control application through its complete, integrated water and wastewater portfolio. Watch our video to learn more about Honeywell solutions in this area.
ON-DEMAND WEBINARS
Optimize your Operations with Control Solutions for Water & Wastewater
Discover Honeywell's control solutions for water and wastewater systems. This session gives an overview of our unique offering across the enterprise, control room, field and remote locations. 
Learn how to identify and solve problems at every level in water plants, supply systems and water treatment systems. And find out how our comprehensive portfolio can reduce operating and maintenance costs while ensuring cybersecurity, data integrity and regulatory compliance.
An Effective OT Cybersecurity Strategy to Mitigate Cyber Threats to Water...
Water and wastewater treatment plants are increasingly targeted for cyber-attacks. Any breach affecting operational assets could potentially compromise water quality or even risk serious harm to people, the plant or the environment. 
An effective operational technology (OT) cybersecurity strategy can mitigate these threats. Attend this webinar to learn about: 
Challenges faced by the water and wastewater treatment plants 
What peers are doing to improve cyber resilience 
Strategies to consider for a cybersecurity program 
Technologies for efficient cyber operations.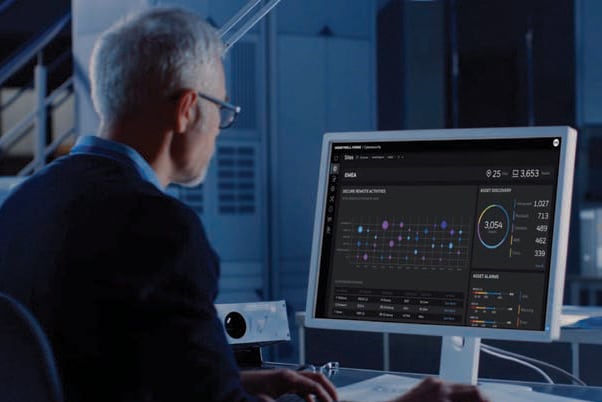 A large industrial manufacturer relies on Honeywell Forge for Cybersecurity technology to help secure over 140 sites around the world
APPLICATIONS
Honeywell meets virtually any water control application need with products featuring unmatched technology, quality and engineering expertise in all phases of operation. Supported applications include:
Activated Sludge Systems
Aerated Lagoon
Bio Filter
Dissolved Air Flotation
Clarifier
Anaerobic Digestion
Bio Reactor
Dewatering (Presses & Centrifuges)
Sand Filter
Lamella Clarifier
Membrane Systems
Sequence Batch Reactors
Reverse Osmosis
Screen Filter
Ultrafiltration / Nanofiltration
Trickling Filter
Influent Pump Stations
Effluent Pump Stations
Lift Stations
Leak Detection
Desalination
CONTACT US
Please contact us to discuss your specific water or wastewater application requirements and to learn how we can tailor a solution to meet your needs. Simply fill out the form below.