Operations
Experion® Orion Console
The Experion Orion Console increases operator effectiveness for a larger scope of responsibility by providing faster response, reducing fatigue, and increasing situational awareness.
Overview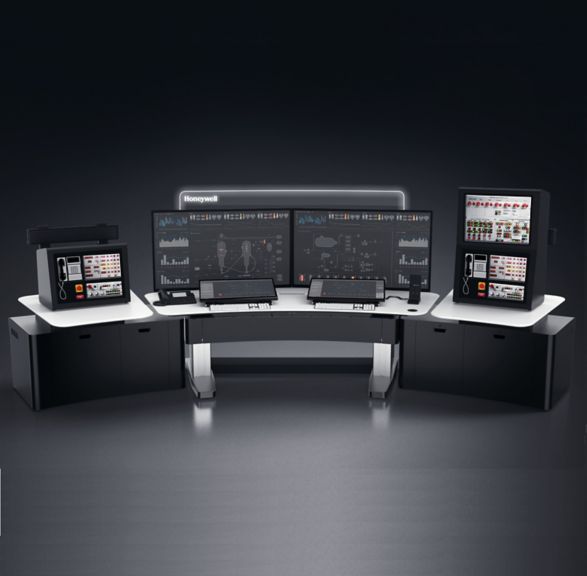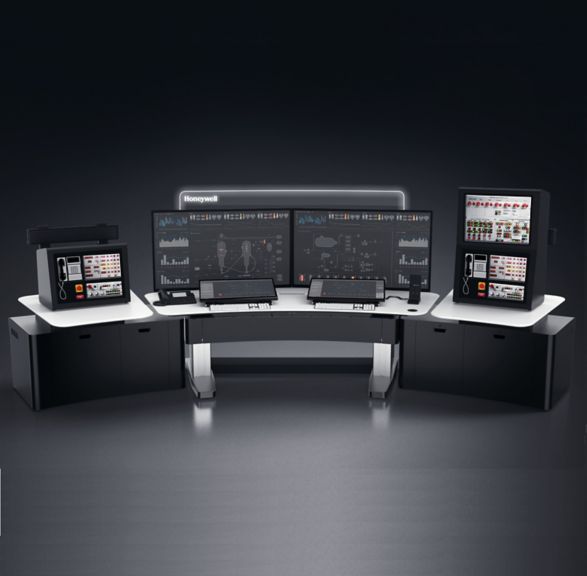 Experion Orion Console is part of Honeywell's initiative to shape control rooms of the future. Experion Orion Console has been selected by automation professionals as the winner of the Control Engineering 2015 Engineers' Choice award in the Hardware — HMI, Operator Interface, Thin-client category.

What Is It?
The Experion Orion Console is Honeywell's next generation control room furniture offering.

How Does It Work?
Large ultra-high definition screens allow flexible layouts of overview and detail displays as well as related applications and video. Limits and targets are built into overview displays.
Ergonomic design improves operator comfort and reduces fatigue.
The operator touch panel allows direct changes to process values faster than a mouse and keyboard.
Bundled solution from a single supplier: Provides out-of-the-box console furniture integrated with control system software.
Effective cable management: Reduces installation and maintenance costs.

What Problems Does It Solve?
The operator can achieve more efficient product/production transitions
The operator can assess and respond faster to potential or actual abnormal situations.
The operator can safely handle a greater scope of responsibility.
The operator is more engaged, comfortable, happier and alert.
Brochure
Name
Description
File Size
Date
Size
Product information note for Experion Orion Console
application/pdf 453.06 KB
6/8/2022
453.06 KB
White Paper
Name
Description
File Size
Date
Size
Plant operator consoles key to greater operational effectiveness whitepaper
application/pdf 561.17 KB
6/8/2022
561.17 KB
Name
Description
File Size
Date
Size
Plant operator consoles key to greater operational effectiveness whitepaper
561.17 KB
6/8/2022
561.17 KB
Product information note for Experion Orion Console
453.06 KB
6/8/2022
453.06 KB
Name
Description
File Size
Date
Size
Product information note for Experion Orion Console
453.06 KB
6/8/2022
Plant operator consoles key to greater operational effectiveness whitepaper
561.17 KB
6/8/2022
Name
Description
File Size
Date
Size