Multivariable Transmitters
SmartLine SMV800 Multivariable Transmitter
SmartLine SMV800 Multivariable transmitters are targeted for compensated mass or volume flow measurement typically for gas, steam as well as liquid applications. These provide reliable and accurate mass or volume flow measurement.
Overview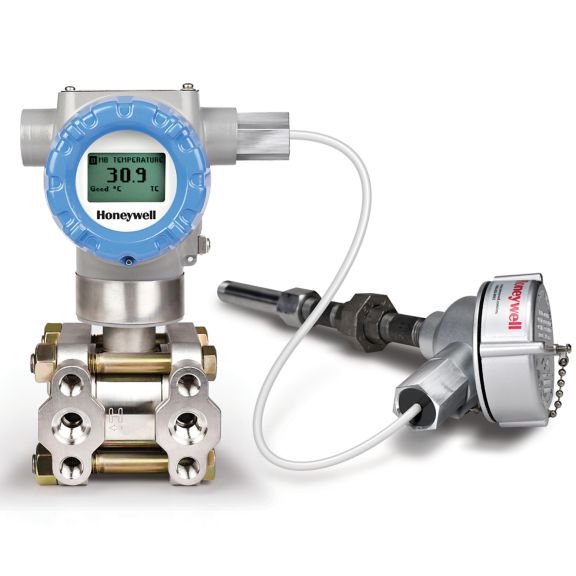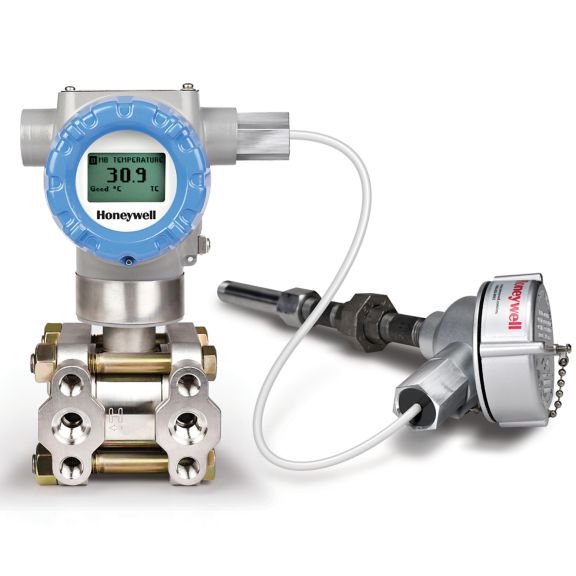 The SMV 800 Smart Multivariable Flow Transmitter combines integrated sensor and microprocessor technologies as well as dynamic flow compensation to produce the most accurate and consistent flow measurement. It comes in four different models -
| | | |
| --- | --- | --- |
| Model | DP | SP |
| SMA810 | 0-62.5 mbar | 0-7 bar A |
| SMA845 | 0-1000 mbar | 0-104 bar A |
| SMG870 | 0-1000 mbar | 0-310 bar g |
| SMG890 | 0-5000 mbar | 0-310 bar g​ |

This Smart transmitter measures differential pressure and absolute or gauge pressure from a single sensor and temperature from a standard Resistance Temperature Detector (RTD) or thermocouple. SMV800 uses the measurement of three separate variables to calculate compensated mass or volume flow rate as fourth variable. The flow calculations are based on industry standard methods for air, gases, steam or liquids e ,g ASME, ISO, AGA or GOST standards.

Application Note
Name
Description
File Size
Date
Size
Multivariable transmitter is typically applied to airflow measurement for tighter combustion controls in furnaces and boilers to improve energy efficiency and emission control
application/pdf 854.97 KB
6/8/2022
854.97 KB
Application note on air flow measurement using Smart Multivariable Transmitters.
application/pdf 228.64 KB
6/8/2022
228.64 KB
application/pdf 229.97 KB
6/8/2022
229.97 KB
Brochure
Name
Description
File Size
Date
Size
SmartLine Multivariable Transmitter with Modbus Protocol
application/pdf 249.3 KB
6/8/2022
249.3 KB
SmartLine Multivariable SMV800 Transmitter
application/pdf 5.69 MB
6/8/2022
5.69 MB
Extended warranty options offer peace of mind and exploitation easiness, letting you focus on other key tasks.
application/pdf 637.92 KB
8/1/2022
637.92 KB
Download the latest family brochure for SmartLine. This covers the new features of all Temperature, Pressure, Multivariable and many more transmitters that Honeywell has to offer.
application/pdf 14.98 MB
10/6/2022
14.98 MB
White Paper
Name
Description
File Size
Date
Size
White Paper detailing the materials selected and used in the construction of Honeywell pressure transmitters for process control systems in processing industries.
application/pdf 1.92 MB
6/8/2022
1.92 MB
Data Sheet
Name
Description
File Size
Date
Size
SMV800 SmartLine Multivariable Transmitter Specifications-CN
application/pdf 796.79 KB
6/8/2022
796.79 KB
HART DTMs for ST 800, ST 700, SMV800, STT850, STT650, STT750, STT700, ST 3000, and STT 250 products. Unzip the package and see the Release notes for more details
application/pdf 122.41 KB
1/11/2023
122.41 KB
application/pdf 1.25 MB
12/21/2022
1.25 MB
Firmware file set for SmartLine SMV800 HART Device Release R120.2
application/pdf 104.42 KB
12/21/2022
104.42 KB
Name
Description
File Size
Date
Size
Name
Description
File Size
Date
Size
Name
Description
File Size
Date
Size