Trendview - Paperless Recorders
Minitrend Recorder
Honeywell's Minitrend electronic data recorder represents the latest in recording technology and provides the ability to capture continuous and batch data electronically, making the analysis of data easier, faster and more reliable.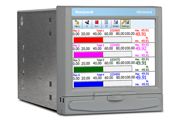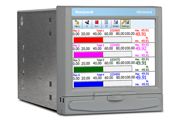 Minitrend uses a 5.7" high resolution digital TFT display that provides clear, bright images and provides a wider viewing angle of the process data than other display types. The touch-screen interface and graphical icons make it easy to use, while the display can be customized to access the best representation of process data. It records data in a secure digital format, eliminating interpolation errors that can arise from transposing data from a chart to a spreadsheet for analysis.The Minitrend supports up to 16 analog inputs that handle T/C, RTD, Linear and 10Ω/53Ω input sensor types, allowing direct connection of the sensor to the recorder. It can store data to an SD card and/or USB memory stick.
Application Note
Name
Description
File Size
Date
Size
The TrendView Recorders provide efficient methods to save and document process data to easily provide historical records of process performance.
PDF 397.01 KB
6/8/2022
397.01 KB
Brochure
Name
Description
File Size
Date
Size
Paperless Recorders and Data Acquisition solutions: eZtrend, Minitrend, Multitrend and DR Graphic recorders
PDF 3.52 MB
6/8/2022
3.52 MB
Data Sheet
Name
Description
File Size
Date
Size
GR Series Advanced Graphic Recorders
PDF 1.29 MB
6/8/2022
1.29 MB
X Series Advanced Graphic Recorders.
PDF 1.11 MB
6/8/2022
1.11 MB
Name
Description
File Size
Date
Size