Portable Gauging & Sampling for Land Applications
HERMetic Sampler A-2 and A-4 - Land Applications
HERMetic Sampler A-2 and A-4 is dedicated to applications where restricted sampling is authorized. The sampler is used for crude oil sampling on storage tanks at refineries and terminals.
Overview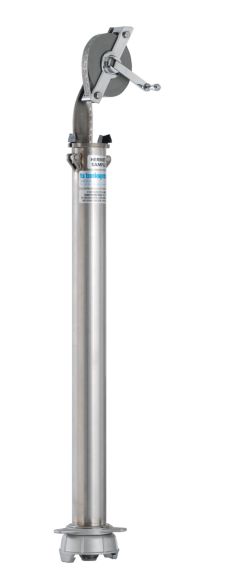 What Is It?
The HERMetic Sampler A-2 and A-4 is a portable sampler for use in applications where restricted sampling is authorized. The liquid transfer from the sampler to the sample bottle is carried out in open conditions.
The key features of Sampler A-2 and A-4 include:
Used for connection on 2-inch HERMetic compact valves
For applications involving liquids with low or high viscosity
Ideal for use under open operations
Easy installation on 2-inch vapor control valves with quick connect coupling
Sampling height can be measured on the graduated tape
Sampling bottle can be easily removed and exchanged
Delivered with a zone sampling bottle—spot, running and bottom sampling bottles are also available on request
Technical specifications include:
Tape length for A-2/A-4: 30 m/ 100 ft
Tape length Option 2 for A4: 40 m/ 114 ft
Capacity of sampling bottles A-2: up to 0.47 litre
Capacity of sampling bottles A-4: up to 1.8 litre
Type of Gaskets:

FKM (For Sampler GT)
FFKM (For Sampler GT Chem)
How Does It Work?
​The sampler housing is mounted on top of the HERMetic 2" ball valve or a 4" deck valve, depending on the type of sampler model. The sample is taken through the vertical movement of the sampling bottle inside the liquid. The bottle is linked to a graduated tape. A reading window allows users to monitor the bottle location.
What Problems Does It Solve?
​Honeywell's samplers for restricted operation offer easy installation, low costs, and clean operation during sampling. It permits taking a representative sample of the content inside the tank for further analysis in a laboratory.
Brochure
Name
Description
File Size
Date
Size
Technical brochure covering details of portable gauges: HERMetic UTImeter Gtex 2000, Otex and HERMetic Samplers GT, GT Chem, GTX, GTN
application/pdf 2.14 MB
9/27/2022
2.14 MB
Name
Description
File Size
Date
Size
Technical brochure covering details of portable gauges: HERMetic UTImeter Gtex 2000, Otex and HERMetic Samplers GT, GT Chem, GTX, GTN
2.14 MB
9/27/2022
2.14 MB
Name
Description
File Size
Date
Size
Technical brochure covering details of portable gauges: HERMetic UTImeter Gtex 2000, Otex and HERMetic Samplers GT, GT Chem, GTX, GTN
2.14 MB
9/27/2022
Name
Description
File Size
Date
Size
Please sign in to activate purchase options
TS 10088
HERMetic Sampler A-2 without bottle
TS 10093
HERMetic Sampler A-4 without bottle