Control Valves
V47/V87/VR/VMU Series
Servo Regulated Gas Valves and Accessories
Overview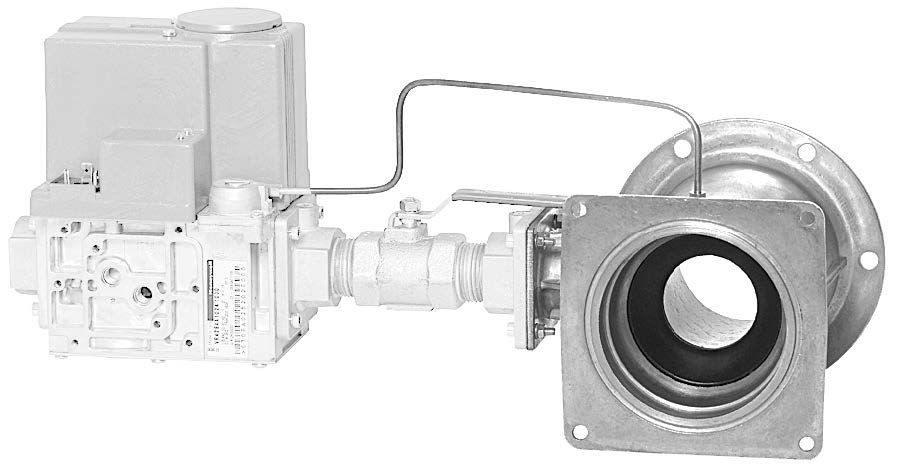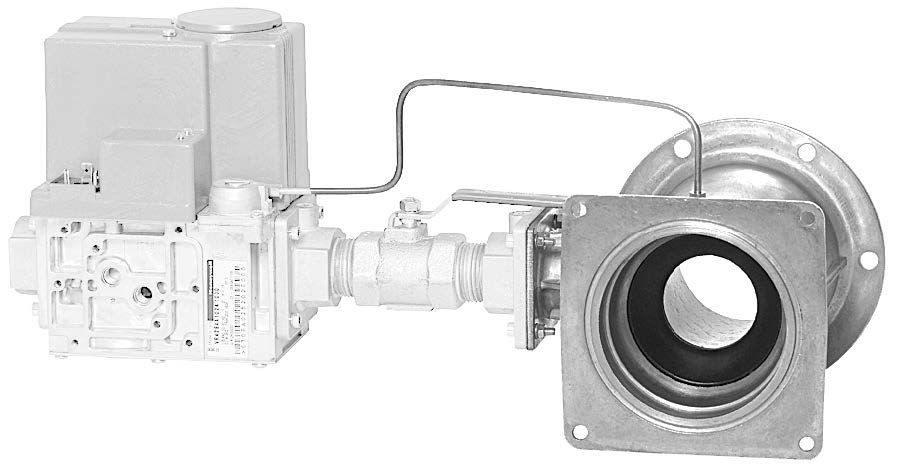 V4730C; V4734C; V8730C Gas/Air Servo Regulated Gas Valves & VMU Mixing Units
Body Pattern: Straight flange Valve
Opening Time: Dead time maximum: 1 s; First valve – < 1 s
Materials: Body: Aluminum alloy, die-cast Frequency: 50 Hz; 60 Hz Ambient Temperature Range: 5°F to 140°F (-15°C to +60°C)
Approvals, CSA: File: Certificate No: 158158-1227192
Approvals, Others: Gas Appliance Directive: 90.396/EEC, PIN: 0063AT1198, Low Voltage Directive: 73/23/EEC, Electro Magnetic Compatibility Directive: 89/336/EEC
Maximum Safe Operating Pressure (psi): 0.5 psi (CSA approved), 1.45 psi for 120V)
Maximum Operating Pressure (mbar): 35 mbar (CSA approved)
Comments: The minimum load for which the system can be used is 14-17% of the reference load, which equals a minimum pressure differential of 0.2 in. wc (50 Pa) of the 1:1 venturi/servo regulator gas control
Coil Insulation Solenoid Valves: Class H insulation system VMU Mixing Units
The venturi mixing unit (VMU), combined with the V4730C/ V8730C gas valves and specific direct current (dc) fan, has been developed for modulating premix appliances like gas burners and gas boilers.
Has a wide modulation band (14 to 100% of the boiler load).
Flexible mounting positions of gas control to venturi manifold and venturi manifold to fan.
Two stainless steel sensing tubes are provided for use with or without manual safety shutoff valve.
Materials: Housing: Aluminum, Venturi: Statically dissipative statcon PF, Seals: Rubber (NBR)
Ambient Temperature Range: 32°F to 212°F (0°C to 100°C)
Approvals, CSA: File: Certificate No: 158158-1227192
Pipe Connection: Four M5 screws and a rubber O-ring are provided with the venturi to assemble it to the V4730C/V8730C gas valve
The stainless steel tube provided with the venturi has to be connected between the venturi inlet (connection provided) and the gas valve regulator
Longer sensing tube for use with manual safety shutoff valve (KTTBA002). Shorter sensing tube for use without manual safety shutoff valve (KTTBA001).
Name
Description
File Size
Date
Size
Please sign in to activate purchase options
Part Number
Description
Order Online
50002653-001/U
VALVE KIT ( 1500000)
50002653-002/U
VALVE KIT (#1500001)
C60VRT40040
PRESSURE SWITCH 5-40MBAR USA
V2MU0500-010
MIXING UNIT 500 KW SV2 SERIES
VMU150A1052
VENTURI 150KW WITH INSERT
VMU185A1033/U
VENTURI FOR REMEHA
VMU185A1074
VENTURI 185 KW LPG SPECIAL
VMU185A1084
VENTURI 185 KW FOR V47/8730C
VMU300A1004
MANIFOLD - 300KW
VMU300A1046
VENTURI 300KW FOR USE WITH V47/8730C