Ultrasonic Meters
Q.Sonic-plus
Whether prices are high or low, the metering system is a critical element in the natural gas process, providing the cash register of the business
Overview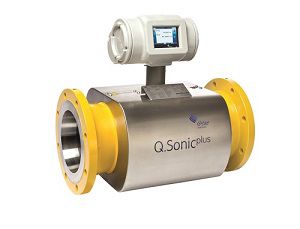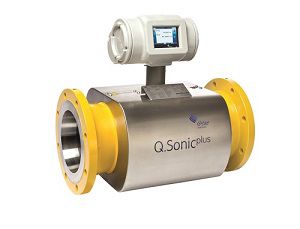 What Is It?
The Q.Sonicplus multi-path ultr​asonic gas meter is ideally suited for custody transfer ​measurements of na​​tural gas. The patented arrangement of measuring paths in conjunction with sophisticated ultrasonic sensors and digital signal processing account for maximum measurement accuracy with excellent long-term stability. ​
The flow profile analysis of the Q.Sonicplus allows the otherwise conventional use of a flow conditioner to be dispensed with in many applications. The Q.Sonicplus ultrasonic gas meter delivers accuracy and insight to boost the reliability, performance and efficiency of custody transfer applications.
How Does It Work?
​The field-proven Honeywell Q.Sonicplus USM with a patented six-path configuration provides detailed flow profile recognition, superb noise immunity, and unrivaled pressure and gas velocity abilities.
Using reflective paths and sophisticated diagnostics, our ultrasonic flow meter quickly identifies fouling or liquids inside the pipe. Fiscal measurements are fully compliant with AGA9, type approved (MID) by NMi, and explosion approved according to ATEX, IECEx, FM and CSA. With four double reflection paths (swirl paths) and two single reflection paths (axial paths), the primary measurement will provide compliant fiscal measurements even in case of a failure of one path of each type (axial/swirl).
What Problems Does It Solve?
​Market leading ultrasonic metering technology, advanced diagnostics and easy-to-use software deliver the highest levels of accuracy, confidence, cost-effectiveness and long-term reliability.​
Technical Data:
Q. Sonic - ultrasonic flow measurement with added value:
Single and double reflection technology combined to 3-path, 4-path, or 5-path meters
Metrological identification of flow profile
High stability by digital signal processing (CMB)
Bi-directional use
Excellent repeatability
Excellent long-time stability
No moving parts, wear-free measurement
No pressure drop
Under pressure exchangeable ultrasonic transducers
Design in accordance with ISO standard CD17089
Design in accordance with AGA-9 report
Housing material steel A333/ A350, P355, special steel A316L, extra materials possible
Pressure ratings: ASME 150 / 300 / 600 / 900, higher pressure ratings respectively DIN-flanges (PN) on request
Approvals amongst others: PTB, NMI, GHOST, CMI
ATEX Ex II 2 G
Brochure
Name
Description
File Size
Date
Size
Ultrasonic Flow Meter for Natural Gas Custody Transfer Measurement
1.89 MB
6/8/2022
1.89 MB
Q.Sonic-plus datasheet
235.3 KB
6/8/2022
235.3 KB
Series6
3.9 MB
5/3/2023
3.9 MB
Name
Description
File Size
Date
Size
Ultrasonic Flow Meter for Natural Gas Custody Transfer Measurement
1.89 MB
6/8/2022
Q.Sonic-plus datasheet
235.3 KB
6/8/2022
Name
Description
File Size
Date
Size
Please sign in to activate purchase options
QSHP
Q.Sonic High Pressure Calibration
QSITP
Q.SONIC CUSTOMIZED INSP AND TEST PLAN