Discontinued: Field Instruments
XYR 6000 Absolute Pressure
XYR 6000 OneWireless Absolute Pressure Transmitter is ideal for applications in which high accuracy in the vacuum range of pressure is needed.
Overview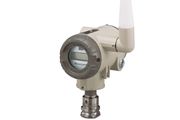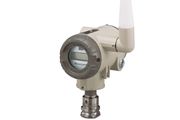 The XYR 6000 OneWireless Absolute Pressure Transmitter is an in-line pressure transmitter designed to measure pressure to a high accuracy in a vacuum range. The transmitter has a pressure range of 0 to 500 psia (0 to 35 barA). Rated for industrial use, it is ideal for hazardous, remote or hard-to-access locations.
The transmitter measures the process pressure and transmits the measured value as a digital output signal in user-configured engineering units. The device transmits its output in a digital OneWireless protocol format for direct digital communication with systems. The Process Variable (PV) is available for monitoring and alarm purposes. The transmitter interoperates with any ISA100.11a wireless network.

How Does It Work?
XYR 6000 OneWireless Absolute Pressure Transmitter sends information to an ISA100.11a compliant MESH infrastructure. Wireless Data Managers (WDM) provide the path to bring that information into Experion PKS or any other control system wirelessly via OPC client or Modbus-TCP. The transmitter's unique piezoresistive sensor automatically compensates input for temperature. Other 'smart' features include options to configure lower and upper range values and select preprogrammed engineering units for display. Optional remote high gain antennas are also available that can significantly increase coverage.

What Problems Does It Solve?
​XYR 6000 OneWireless Absolute Pressure Transmitter enables users to measure remote access points simply, securely and accurately. It is a cost-effective solution for obtaining previously inaccessible information, thereby ensuring regulatory compliance and improved process efficiency.
Name
Description
File Size
Date
Size