Connect
Your Utilities.
Transform
Your Operations.
Honeywell helps you ensure reliable, safe, and cost-effective operations of your infrastructure.
What We Offer
Leveraging global resources, best-in-class technology and proven industry experience, our integrated operations platform makes it easier to anticipate utility market needs and manage energy generation.​

Transmission and Distribution Deferral

Load shedding/Congestion Relief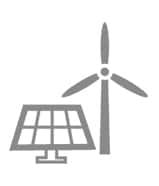 Solar PV Wind Firming/Smoothing

Reduce use of conventional generation

Voltage & frequency regulation



Spin/Non-spin reserve (remote)
What Will You Get?
Transmission and Distribution Deferral
Renewable Energy Smoothing
Black-Start in Disaster Recovery
Reduction of grid energy consumption during peak demand/pricing and shave grid peaks to increase the lifetime of grid infrastructure.


Ensure reliable power supply from cleaner energy to reduce carbon footprint.
Intelligent utilization of energy resources to maximize ROI of your energy assets.
Safely start your operations for disaster recovery
Solution Note
Honeywell Optimizes Renewable Energy Distributed Assets
eBook
Five Ways To Optimize Renewable Energy Assets

Learn How To Extract More Value Out Of Your Renewable Energy Assets
Webinar
In this Webinar, You'll Learn to Capture Value with Battery Energy Storage System at Grid Scale in The New Markets. 
Energy Storage as a Service
Honeywell and Alturus collaborate to provide Energy Storage as a Service (ESaaS) and deliver meaningful performance.
Press Release
Honeywell Energy Storage Solutions To Power Hecate Energy's New Solar Park Located In New Mexico